Proceeds and commissions from these items will support the We Gotchya period supply program.
---
These boyfriend briefs are pretty cute — they clearly tell anyone around that it's that time of the month. Super cute for sleepovers.
---
This period party gift says "I love being a girl!". Get her off to a glittery start with this Period Starter Kit in either pink or black. It comes with 2 pads, a liner, disposal pouches and wipes. Add our own cup, tampon or reusable cotton pad.
Small zippered stash bag includes an Answer Book with answers to period questions, 5 pads, a reusable gel heating pad and two hand wipes. Mostly, it's a cute way to say: Congratulations, you're a girl!
---
Celebration Starter Kit
We like this set because it includes a lot of material to help a girl avoid embarrassment and shame regarding her period. Let's help girls get off to a good start with their femininity!
This "starter kit", made by Blossom Girls, includes: A "congratulations" letter, complete with glitter, a workbook that explains menstruation and a woman's reproductive system, and a calendar, pen and paper for keeping track of her cycle. It also includes tampons, liners, pads, wipes and a discreet carrying case.
Help her feel good about menstruation!
This starter kit is available at Amazon.
---
Menstrual Cup Starter Kit
Here's everything you need to get you started with a menstrual cup — which is actually a good idea when you think about it.
Menstrual cups can be scary at first: How do they work? How do I insert them? How do I care for them?
Well, this kit answers all of those questions, and some you didn't even know you had! You get 2 cups, a soap wash and lubricant, and a container for microwaving the cups to sterilize them. See — you didn't know you could do that, did ya?
---
This set of 2 menstrual cups makes a nice gift for a period party. There's one small cup and one large cup, each with a silk carrying bag.
Luna cups are comfortable and effective, and way cheaper than disposable pads or tampons. This product gets 4.5 stars out of 5 in Amazon, with nearly 1,000 reviews. Comments include this product is more flexible than others, making it more comfortable. You can wear these and work out, swim, dance, whatever!
Most common comment: Where have these been my whole life?
So, if you don't buy these as a gift, buy them for yourself!
---
Join the We Gotchya Crew by sipping your daily coffee out of this branded mug.
---
No reason we can't joke about feminine products…  "Feminine towels, now with wings!" is what this cartoon mug says, right next to the pads that are flying out of the box and out the window. Just a bit of period humor!
---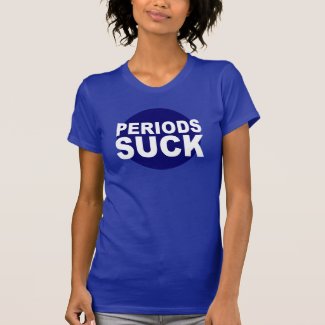 Periods Suck — Commas Rule
We hate to give away the joke in the headline, but it is pretty funny. If you're a grammarian or a linguist, and you're a period person, well… this shirt is for you! The front says "Periods Suck" and the back says "Commas Rule". If you like it, you can order this design on dozens of different style shirts, tanks and sweatshirts at the Zazzle marketplace.
This basic t-shirt is $40 at Zazzle. 
---